Reshaping Our Culture: How APEX: Forge Encouraged Students to Make Change
For such a time as this.
That phrase, from the Book of Esther, describes a moment of significance. It points to the providence of God as people and events converge in perfect timing.
APEX: Forge kind of had that energy.
After last year's APEX Spark regional events, the return of a nation-wide APEX event was welcome.
The Cabinet, the student team that plans and executes APEX, had special plans for APEX: Forge. Their vision was to encourage students to "reshape your culture".
In the midst of COVID-19, a contentious election cycle, social unrest, and plummeting trust in institutions, this APEX was just right for such a time as this.
The future of education in your inbox.
Get productivity tips, commentary, and Unbound updates sent to you!
During the opening session, Unbound CEO Jonathan Brush shared an action plan for reshaping culture: commit to solve a problem or meet a need, connect with others who can help, and catalyze change through practical action.
Keynote Speakers
Other keynote speakers shared their stories, gave insights on culture-shaping, and encouraged students to live out their faith and values courageously.
Ryan Bomberger, founder of The Radiance Foundation, spoke about the power of adoption, illustrated by his personal story.
Shane Morris, columnist for Breakpoint, explored the joys of Christianity and how to communicate these to a world that too often equates Christians with "no's".
Nathan Rittenhouse, an apologist and preacher, encouraged students to patiently prepare for their calling by developing their skills and character.
Alumni Sessions
In addition to these keynotes, students also had the chance to hear from alumni who had been in their shoes. These alumni speakers shared about their experiences in post-college life. They spoke on topics like communicating value, listening to others, the power of story, building relationships, and using 21st century tools like social media to reshape culture.
Going Forward
The timing of this content couldn't be more important. As mentioned above, the culture that students are finding themselves in is in turmoil. The needs are big.
While these cultural needs are big, the solutions don't have to be large-scale. That was a recurring theme from the APEX: Forge stage.
Students were encouraged to start small and start local. They were encouraged to reshape the culture by first transforming their communities and families. This kind of grassroots change may not be as flashy as big changes but they are often more sustainable and impactful in the long run.
As Ascend students kicked off their year in the program at APEX: Forge, they received a clear call to reshape their culture in whatever ways they were qualified to. There is no shame in doing "little things with great love" as Mother Teresa said.
In addition to the keynote and alumni sessions, students also enjoyed small group discussion time and an exhilarating three-day treasure hunt called the Pigeon Project.
For many students, APEX: Forge was their first APEX event. As they left the venue in northern Michigan, I hope they all carried some important lessons home as they seek to reshape the culture they find themselves in.
IMAGE: Ryan Bomberger speaks to Unbound students at APEX: Forge.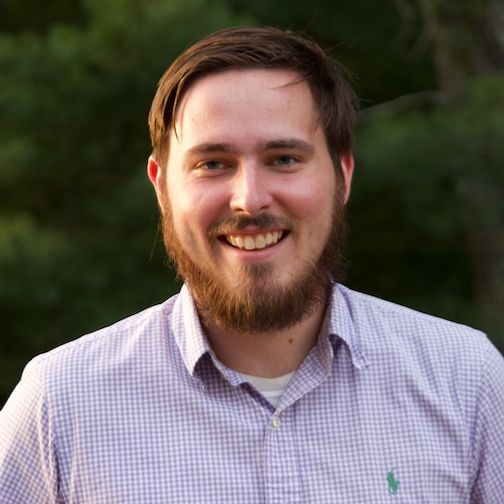 Jace Bower is a Copywriter for Unbound. An Unbound alumnus, he has experienced firsthand the powerful advantages of doing college differently and participating in an intentional community. Jace graduated with his bachelor's degree in History in 2016 and has worked in restaurant management and marketing since then. He also served on the Unbound Student Cabinet in 2019.
The author of two books and a semi-regular blogger, Jace can often be found doing something with words. When he's not, chances are he's reading about theology, listening to music, or playing pool or tennis with his wife Shannon in their Virginia home.